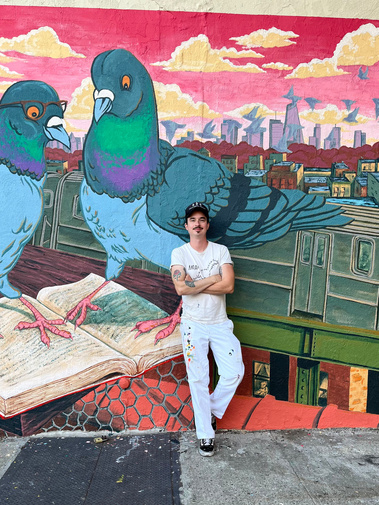 Based in Brooklyn, Spencer Alexander enjoys drawing, listening to records, reading comics, playing bass in his rock & roll band, painting landscapes, and long walks with his pup named Bea.
He is the proud author and illustrator of the comic "Rumble" the story of the unsung Rock & Roll hero Link Wray.

For general inquiries, commissions, and more info, please contact me at:
spencilone@gmail.com

Selected Exhibitions:
-BWAC, Brooklyn, NY. "More art of Coney Island" Summer 2022.
-The Novomisle Project, Brooklyn, NY. November 2016
-Balance, Jersey City NJ. Solo Show October 2015.
-Weeknights gallery, Brooklyn NY. "Friends of Friends" group show July 2012.
-Brooklyn Fireproof East, Brooklyn NY. "Bear Skin" April 2012
-The Skinny, New York, NY. "Solo show", January 2012.
-The Stood Gallery, Purchase, NY. "I Wasn't Born To Follow" (Curator/ Exhibiter) May 2011.
-Purchase School of Art+Design, Purchase, NY. "SUNY Purchase BFA show" May 2011.

-Purchase student gallery, Purchase, NY. "It's Still Real To Me" Fall 2009.


Selected Client List:
Facebook, Advertising Week, Gap Brands, High Times, Backstage, Sony RCA, WFMU, Harbor Picture Company, The Commercial Observer, CMJ, Little Steven's Underground Garage, The New York City Drone Film Festival, Wicked Cool Records, and many more.